Become a Facilitator
Facilitators get a complete workshop management solution, private community, monthly hangouts and personal support from Lean Change Management author Jason Little.
Melissa Kruger
8.68
/ 10
Rating for public events
based on 19 evaluations
9.33
/ 10
Rating for private events
based on 3 evaluations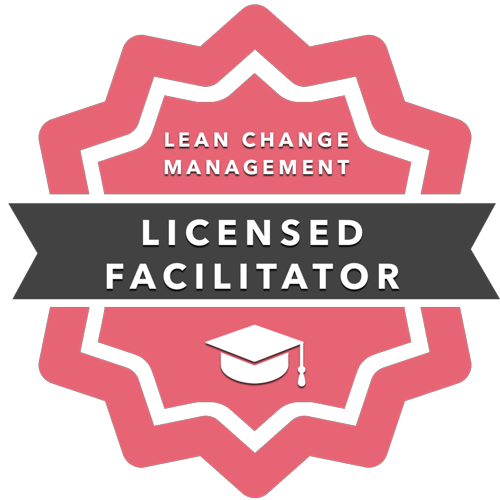 As a seasoned Change Management professional, with a total of 9 years Change Management and Communications experience, predominantly within the financial industry, I tackle people change (transformational change) as well as changes to business processes, systems and technology (operational change) both creatively and sensitively; with my primary responsibility being to create and implement Change Management strategies and plans that maximise employee adoption and usage; and minimise resistance.
Through the implementation of a structured framework, key conversations and building strong trusted relationships, I work to drive faster adoption, higher ultimate utilisation and greater proficiency of the changes that impact employees in the organisation.
Attendees feedback
helen pentz, Consultant, Be Agile
Eager, positive, warm and engaging. They each brought individual strengths and different levels of insight. They did make the training enjoyable. I found Preason to have the most valuable input, and deeper knowledge
Natasha Naidoo
All the facilitators were very knowledgeable and enthusiastic about the course. Melissa Kruger stood out for me, she was honest and you good feel her passion LCM.
Annalinde Singh, Scrum Master, IQbusiness
Conversational style, good sense of humour, supported each other well
Thato Seolonyane , Principal, IQbusiness
Knowledgeable Interactive Out spoken
Myles Hopkins , CFO, Be Agile
Engaged well with the class. Was confident in her knowledge of the material
Samantha Sadie , Consultant, IQbusiness
They were very energized, they were very good at being explanatory in their definition, they were able to answer all our questions and encouraged discussion
Deirdre van Zyl Smit, Owner, Blank Page Consulting
They were all very knowledgeable, and they took time to understand each question before they answered. They considered the feedback, and I can really appreciate it when people are open to accept a complete different opinion - without becoming offended... which non of them did. And then my favourite - they all had a cool sense for humour.
Gabriela Johannes, Consultant, IQbusiness
Very confident in what they were presenting and seamless facilitation
Avile Masiba, Consultant, IQbusiness
Engaging, knowledgeable, flexible and open-minded
Rex van Schalkwyk, Consultant, Be Agile
a Good understanding of the subject matter.
Sandra Borrageiro, Issuer Regulation: Product Owner, JSE
They were extremely knowledgeable in the course content and experience in application. They encourage good debate and participation from participants
Tayla Montanari, Consultant, IQbusiness
Very interactive. They got along well and worked well together.
Nichola Berner, Director, UpTime
Very detailed about the topic, made the learning fun and spent enough time answering any questions through the process.
Reubebn Scheepers
Knowledge of the content, able to explain scenarios when required.
Ruenell Meyer, Santam
Speak fluently Kept us engaged
Roshon Omar, Private
Knowledgeable, engaging, knows material well and provided good practical examples
Faatimah Esau, Old Mutual
Created a conducive environment for learning. Created and displayed templates. Facilitated some fun and interactive exercises.
Sarika Mahadeo-Diercks
Managed time well Engaged the audience Encouraged group contribution
Uanne Nutt, IQbusiness
Confident, Relaxed, Competent, Friendly, Good sense of humour
Zain Hyder, Old Mutual
Very good subject matter Friendly and welcomed participation Created good flow of the 2 days
Zain Hyder, Old Mutual
Very good subject matter Friendly and welcomed participation Created good flow of the 2 days
Wihan de Wet, IQbusiness
Excellent understanding of the content, practical examples used, interactive approach to facilitating