The famous martial artist Bruce Lee once said 'Adapt what is useful, reject what is useless, and add what is specifically your own.' Jason is the Bruce Lee of change management!
Date:
February 21, 9:00 am —
February 22, 6:00 pm GMT-05
Objetivos del curso
Al final de este curso podrás implementar de manera correcta y realizable todos los cambios propuestos por el modelo de Lean Change Management y muchos otros que apalanquen la evolución de tu organización hacia entornos ágiles y de experimentación hacia la adopción o transformación organizacional.
Audiencia
¿A quién está dirigido este curso?
Directores, Gerentes,
Miembros de Equipos de Desarrollo, tales como Developers, Testers, Analistas.
Jefes de Proyecto, Líderes de Proyecto o Gerentes de Proyectos.
Product Owners, Product Managers y personas responsables de alinear los esfuerzos de los equipos con la estrategia de la organización.
Consultores, Scrum Masters o Agile Coach interesados en mejorar o reforzar las competencias, motivación y el trabajo en equipo.
Reclutadores o Gerentes de RRHH interesados en conocer nuevos esquemas de atraer, retener y desarrollar el talento de las personas.
Agentes de Cambio, Responsables de Cambio o cualquier persona involucrada en las iniciativas de cambio de la cultura organizacional o en proyectos de Transformación Digital o Ágil.
Agenda
Ciclo Lean Change Management
¿Cómo las personas experimentan el cambio?
¿Cómo crear una alineación para el cambio?
¿Cómo diseñar experimentos de cambio?
¿Cómo diseñar su propio marco de cambios?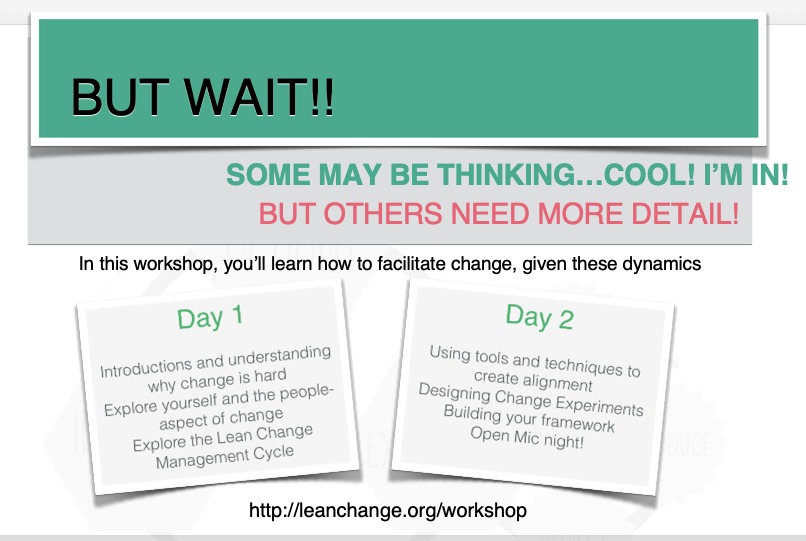 Este workshop es para usted si está pensando en:
Aprender a manejar los impedimentos de las acciones o experimentos de cambio más allá del equipo.
Como aprender a introducir y gestionar efectivamente el cambio en su organización, mejorando el uso eficiente de la inversión y contribuyendo en el bienestar de las personas en una transformación.